Case Studies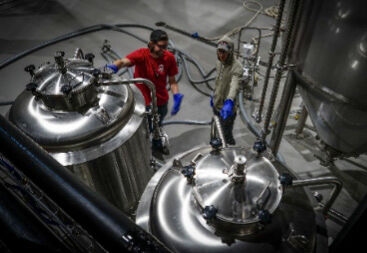 IRONSHIELD Brewing™
Brewing Success With Better Drainage
Industry: Microbrewing
Category: Drainage
Location: Lawrenceville, GA
Installation: BLÜCHER HygienicPro&regDrainage System
Read Case Study
| | |
| --- | --- |
| CUSTOMER: | IRONSHIELD Brewing™ |
| SCOPE: | IRONSHIELD Brewing™ near Atlanta is a state-of-the-art brewery owned and designed by one of the nation's leading microbrewery design and technology experts, Glen Sprouse. So, if there's a "model home" for microbrewing at its finest level, this is it. Sprouse, also an exacting brewer, was especially concerned about one particular need: proper drainage. "It's a critical, one-time investment upon which the rest of the operation rests, quite literally." |
| CHALLENGE: | "Brewers have nightmares about three things: process heating systems, chilled water cooling systems, and drainage. The most vexing of these is drainage. If the drainage isn't up to task – meaning it can't deal with the volume, viscosity, chemicals, or heat – it's a huge challenge. After all, if the drains aren't up to task, you're stuck with them. They're in the floor on which the entire operations rests." |
| SOLUTION: | Benefiting from the flexibility of the BLÜCHER system, IRONSHIELD Brewing combined the unparalleled sanitation of the HygenicPro channel design with the optional mesh grating for maximum slip resistance. "I've known about BLÜCHER drains beforehand, but this was my first experience at specifying them and working closely with their professionals," added Sprouse. In BLÜCHER we found the finest drainage solution available, with engineering plans and specifications for the brewing industry. And unlike large drainage/piping firms with little or no value-added service, the assistance I received from BLÜCHER's sales and design was invaluable. I was under a lot of pressure at the time. Their sales pros overcame obstacles and solved problems for me – a service worth its weight in gold. The drains are incredibly well designed; their edges interlock with the flooring surface like no other product we've found. It's a long-term win for our brewery and, for that matter, any brewery that smartly chooses BLÜCHER drainage technology." |
| RESULTS: | IRONSHIELD Brewing is now up and running. Sprouse and his team are now shipping beer to wholesalers and they'll soon open the taproom. IRONSHIELD Brewing is the 18th brewery that Sprouse has commissioned. The brewery's facility is running optimally – from its many kettles and taps to the floor drains that effortlessly take the punishment of high temp and high volume washing to maintain fast, efficient cleanliness throughout. |
University of Wisconsin-Madison
BLÜCHER trench drains deliver right mix of style and safety
Industry: Education
Category: Water Reuse and Drainage
Location: Madison, WI
Installation: BLÜCHER stainless steel trench drain
Read Case Study
| | |
| --- | --- |
| CUSTOMER: | University of Wisconsin-Madison |
| SCOPE: | The summer of 2012 saw feverishly-paced construction work at the University of Wisconsin Student Athlete Performance Center at Madison's Camp Randall Stadium. |
| CHALLENGE: | Large showers in the locker rooms needed a robust, sanitary drainage system that could handle a high flow rate. |
| SOLUTION: | Hooper Corporation installed BLÜCHER stainless steel trench drain for optimal durability and sanitation. |
| RESULTS: | Following installation of the drainage system, there have been no problems and no maintenance needs. |
When the University of Wisconsin-Madison Badgers needed a new athletic facility, it got all the best trim, right down to the stainless steel trench drain that serves the locker room showers.
The installer - Hooper Corporation's Mechanical Division - needed product quickly because of the tight construction schedule. Gerard Goglia, at Process & Mechanical Systems, Inc. worked with Shaun Opsahl at wholesaler First Supply Madison and Hooper Corporation to assure the project ran smoothly after the drain order was placed.
The locker rooms use 375 lineal feet of BLÜCHER BT6-FC-SH 6" wide trench drain. The drain is pre-sloped, with shower-style grating. Installation went smoothly, and easily kept pace with the construction schedule. The stainless steel drainage system is built to last, finding an ideal "fit" with the modern locker rooms.
SeaTac Airport
Aviation Grade Stainless
Industry: Aviation
Category: Drainage
Location: Seattle, WA
Installation: BLÜCHER stainless steel pipe
Read Case Study
| | |
| --- | --- |
| CUSTOMER: | Seattle - Tacoma Airport – Seattle, WA |
| SCOPE: | Replace the corroded and ever-clogging PVC pipe that comprises the fish market's waste drainage system – used to haul out all of the excess deep fryer sludge. |
| CHALLENGE: | The existing cast iron pipe that serviced airport-terminal restaurants was corroding away and constantly needed to be replaced every four to five years. |
| SOLUTION: | Installing BLÜCHER stainless steel pipe eliminated the issue. |
| RESULTS: | The airport drainage system no longer corrodes or clogs. The system no longer needs to be replaced periodically. |
There are nearly 50 restaurants in the SeaTac airport. The sheer quantity of soda, syrup, juice, dairy products and other corrosive cooking-related liquids that leave through the airport's waste piping takes its toll on pipe.
The cast-iron pipe the airport had been using lasted four or five years before it needed to be replaced because of corrosion. In 2004, Hollabaugh Brothers & Associates, a manufacturer's rep firm, introduced airport maintenance authorities to BLÜCHER's stainless steel product. After being replaced one restaurant at a time over the course of several years, BLÜCHER stainless pipe is solving the airport's plumbing woes.
Orleans Parish Prison
State-of-art prison kitchen chooses BLÜCHER drainage
Industry: Government
Category: Water Reuse and Drainage
Location: New Orleans, LA
Installation: BLÜCHER Pipe
Read Case Study
| | |
| --- | --- |
| CUSTOMER: | Orleans Parish Prison |
| SCOPE: | Build a new state-of-the-art facility to prepare and store meals. |
| CHALLENGE: | With very expensive and temperature-sensitive food storage space below the kitchen, there was no room for error. Kitchen drainage had to handle high volume and high temperatures. |
| SOLUTION: | 8,000 lineal feet of BLÜCHER stainless steel drainage piping. |
| RESULTS: | BLÜCHER steel was strong, durable, and very hygienic. |
In August of 2005, Hurricane Katrina hammered the coast of Louisiana. When it was over, all the buildings at Orleans Parish Prison were overrun by floodwaters and most were tagged as "totally destroyed" in the hurricane's wake.
The Orleans Parish sheriff chose to construct a new, state-of-the-art building to prepare and store meals. The building required a plumbing system with the ability to routinely move liquids at temperatures of up to 260°F – steam pressure cookers would routinely dump waste into the system at very high temps. The weight and volume of the waste being drained into the pipes was a key concern as well. There was no room for error; a leak would be catastrophic.
Cast iron drainage was specified originally for the project, though experts convinced project managers of the many benefits of using 8,000 lineal feet of BLÜCHER stainless steel drainage piping because of its resilience, durability, thermal characteristics and acid resistance (sodas and citric acid are commonly used in kitchens). The treated stainless steel has a smooth and non-porous surface, providing superb hygienic properties. Cast iron presented substantial risk of repeated clogging; BLÜCHER pipe eliminated the problem.
Another advantage to BLÜCHER stainless steel was its greater tolerance for transportation of fat, which quickly congeals and can – when it cools – become a tough obstacle for fluids in the pipeline. As an extra measure of prevention, half the pipe is heat-traced with an electric cable heat element that's attached to the entire length of the pipe.